Canadian Sculpture Centre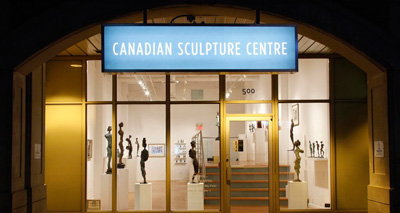 500 Church Street, Toronto ON M4Y 2C8
Hours: Tues-Fri 12-6, Sat 11-4 (except holiday weekends).
T:
647 435 5858
[email protected]
www.cansculpt.org
Facebook: http://bit.ly/2jJ87zm.
TAG: Artists' Collectives / Associations, Canadian, Church Street Village, Commercial, Contemporary, Juried Exhibitions, Ontario Association of Art Galleries (OAAG), Ontario Museum Association (OMA), Sculpture / Assemblage / Installation Art
EXHIBITIONS & EVENTS –
Jan 19-Feb 8, 2019 | reception / artist talks Sat 19 Jan, 2-4pm:
The Sculptors Society of Canada is proud to present... Kudos V ... for the generous support, dedication and commitment of the SSC Executive Board, Volunteers and the Green Family. Featuring works by: Edward Falkenberg •
...
more