Art Gallery of Mississauga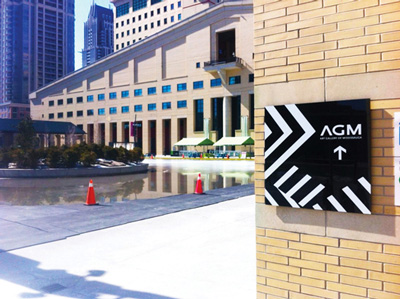 300 City Centre Drive, Mississauga ON L5B 3C1
Hours -- Mon, Tues, Wed & Fri 10-5; Thur 10-8; Sat & Sun 12-4. Visit our website for holiday hours. Please note: The Gallery is closed for installation Jun 17-Jul 3, 2019; reopening Jul 4, 6-8pm. Wheelchair accessible.
admission: FREE. All are welcome.
T:
905 896 5088
www.artgalleryofmississauga.com
Facebook: www.facebook.com/agmengage.
Twitter: www.twitter.com/AGMengage.
YouTube: www.youtube.com/user/AGMEngage.
Instagram: www.instagram.com/AGMengage.
Blog: http://artgalleryofmississauga.wordpress.com/.
The Art Gallery of Mississauga (AGM) is a public, not-for-profit art gallery located on the ground floor of the Mississauga Civic Centre, right on Celebration Square and across from Square One. The AGM is a barrier-free space with an all-gender washroom. Everyone is welcome.
TAG: Canadian, Canadian Museums Association, Caribbean, Contemporary, Drawings / Ink / Pastels, Mixed Media / Collage, Ontario Association of Art Galleries (OAAG), Paintings (oil, acrylic, encaustic, egg tempera, w/c, pastel), Peel Regional Municipality, Photography / Lens-based, Printmaking (woodcut, engraving, etching, lithography, screenprint, monoprint, etc.), Public Galleries / Museums, Sculpture / Assemblage / Installation Art, Textiles / Fibre Art