Thompson Landry Gallery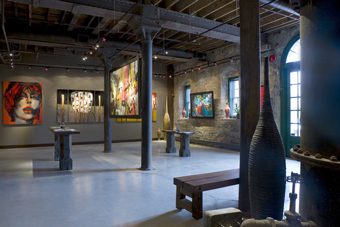 32 Distillery Lane (Stone Distillery Gallery), and 6 Trinity Street (The Cooperage Space), Distillery District, Toronto ON M5A 3C4
Gallery hours: Tues-Sat 11-6, Sun 12-5 or by appointment.
T:
416 364 4955
[email protected]
www.thompsonlandry.com
Facebook: http://bit.ly/2ex89HF.
Twitter: www.twitter.com/ThompsonLandry.
Instagram: www.instagram.com/thompsonlandrygallery/.
The Thompson Landry Gallery showcases the very best of the new generation of contemporary Quebec artists, as well as its great masters, and is the only gallery in Toronto specializing solely in artwork from the province of Quebec.
TAG: Canadian, Commercial, Contemporary, Distillery District, Historical, Mixed Media / Collage, Modern, Paintings (oil, acrylic, encaustic, egg tempera, w/c, pastel), Photography / Lens-based

In the month of August, Face to Face, new works by Mathieu Laca continues through August 15th in the Stone Distillery Gall
...
more
August and September will also highlight the sheer variety of our talented roster of artists. Our Cooperage Space will be curated to reflect our newest arrivals, as well as bright and vibrant works to echo the summer season. Come visit ... more