Mercer Union
A Centre for Contemporary Art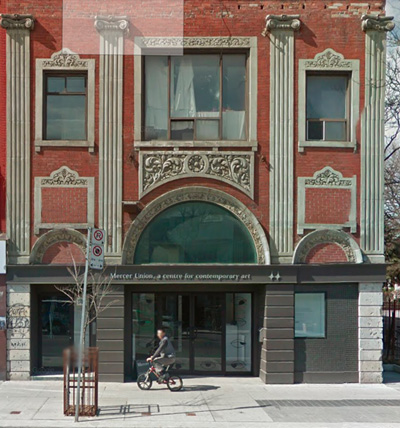 1286 Bloor Street West, Toronto ON M6H 1N9
Hours: Tues 11-8, Wed-Sat 11-6. Wheelchair accessible.
T:
416 536 1519
F:
416 536 2955
[email protected]
www.mercerunion.org
Facebook: http://on.fb.me/sLJH6x.
Twitter: www.twitter.com/mercerunion.
Instagram: www.instagram.com/mercerunion.
Member of ARCCO (Artist-Run Centres and Collectives of Ontario).
TAG: American, Artist-Run Centres, Artists' Books, Asian, Bloordale, Canadian, Contemporary, Drawings / Ink / Pastels, European, Fine Art Prints, Latin & South American, Middle Eastern, Mixed Media / Collage, Ontario Association of Art Galleries (OAAG), Paintings (oil, acrylic, encaustic, egg tempera, w/c, pastel), Performance Art / Music, Photography / Lens-based, Relational / Conceptual Art, Scotiabank CONTACT Photography Festival 2018, Sculpture / Assemblage / Installation Art, Video / Film / Sound

22 Jun -- 11 Aug 2018 | opening reception Thur 21 Jun, 7pm:
RAGGA NYC is a growing collective of Queer Caribbean artists and allies. Founded by Christopher Udemezue (Neon Christina), the group was created to ma
...
more
Tuesdays 6-8pm, 26 Jun -- 7 Aug 2018:
Michèle Pearson Clarke: What We Owe to Each Other – a public research project on collective learning. Building on her video and photography work examining vulnerability, affect and repair, Clarke is taking up weekly residen ... more