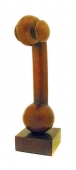 The Sculptors Society of Canada is pleased to present... Joy! Celebrating the festive season. Featuring works by Andrew Benyei, Irene Bl
...
more
Canadian Sculpture Centre (T.O. Downtown)
film screening 6pm (repeat screening, in English: Jan 13)
GAS is hosting special screenings of Toronto-based filmmaker Maria Teresa Larrain's documentary Shadow Girl, an intimate first-person film that follows Chilean-born Larrain's journey into the depths of blindness. This powerful and poeti
...
more
Gerrard Art Space (GAS) (T.O. Central)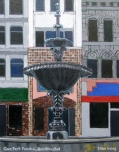 Heart of the City: Artists Celebrate The Gore. "The Gore" has been the historical heart of Hamilton and a communal gathering place for over 150 ... more
Redchurch Cafe & Gallery (Ontario South-West)
The Buckhorn Fine Art Festival | Deadline for submissions is 5pm on January 12, 2018. The Buckhorn Fine Art Festival has been one of the top 100 festivals in Ontario for 10 consecutive years. This prestigious juried show i
...
more
Buckhorn Fine Art Festival (Calls for Artists)