Gallery 260
Fine Art | Classic Cars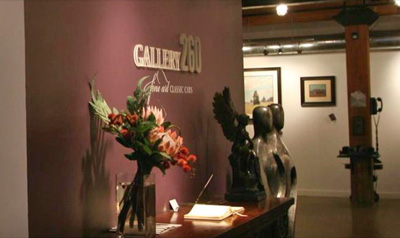 260 Richmond Street East, Suite 100, Toronto ON M5A 1P4
Hours: Mon-Sat 10-6, Sun 11-5. FREE parking (Contact the Gallery to reserve parking spot).
T:
416 777 0260
F:
416 340 0851
Art has many forms ... You can find them all at Gallery 260.
TAG: Canadian, Commercial, Contemporary, Historical, Modern, Paintings (oil, acrylic, encaustic, egg tempera, w/c, pastel), Richmond Street East at Berkeley, Toronto

Works by Paul Lipman Andre, Sir Frederick Grant Banting, John William Beatty, Ginette Beaulieu, Christian Bergeron, Isabel Beyal, Cynthia Blair, Da
...
more