Odon Wagner Contemporary & Odon Wagner Gallery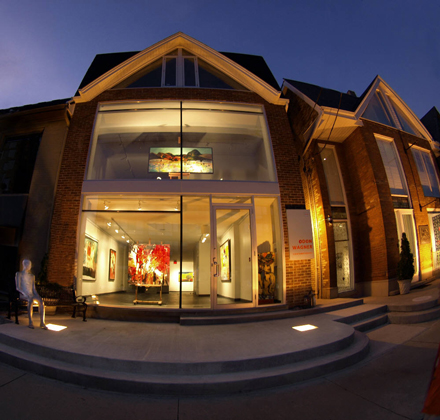 196 Davenport Road & 198 Davenport Road, Toronto ON M5R 1J2
Hours: Mon-Fri 9-5, Sat 10-5. Closed Sundays.
T:
416 962 0438
T2:
1 800 551 2465
[email protected]
www.odonwagnergallery.com
Facebook: www.facebook.com/odonwagnergallery.
Twitter: www.twitter.com/owgallery.
Instagram: www.instagram.com/odonwagnergallery.
Odon Wagner Contemporary is dedicated to exhibiting contemporary paintings and sculpture by established Canadian and international artists. Odon Wagner Gallery is Toronto's premier art gallery for the sale, purchase, restoration and framing of important 19th- & 20th-century European traditional and modern art. With over 7,000 square feet of custom-built exhibition space, a visit to the galleries offers you the opportunity to experience over three centuries of fine art. In-house Framing & Art Restoration Studio with over 75 years of combined experience. Member of ADAC (Art Dealers Association of Canada).
TAG: American, Art Dealers Association of Canada (ADAC), Art Restoration, Art Toronto, Asian, Avenue Road & Davenport, Canadian, Commercial, Contemporary, European, Framing, Historical, Middle Eastern, Mixed Media / Collage, Modern, Oceanian / Australian, Paintings (oil, acrylic, encaustic, egg tempera, w/c, pastel), Printmaking (woodcut, engraving, etching, lithography, screenprint, monoprint, etc.), Sculpture / Assemblage / Installation Art
ODON WAGNER CONTEMPORARY (198 Davenport).
Feb - Mar 2019:
Group Exhibition. Highlights include work by Andy Warhol, Pablo Picasso, Michael Burges, Jan Kolata, Yehouda Chaki, Peter Uka, Iwajla Klinke, Zhang He, Hans Sieverding, and Willy Ramos. In anticipation to Spring, Odon Wagner Gall ... more
ODON WAGNER GALLERY (196 Davenport Road).