Canadian Sculpture Centre / Sculptors Society of Canada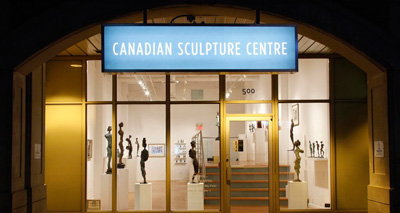 39 Parliament Street, Toronto ON M5A 4R2
Hours: Tues-Sat 11-6, Sun 12-5.
T:
647 435 5858
[email protected]
www.sculptorssocietyofcanada.org
Facebook: www.facebook.com/sculptorssocietyofcanada.
TAG: Artists' Collectives / Associations, Canadian, Church Street Village, Commercial, Contemporary, Juried Exhibitions, Ontario Association of Art Galleries (OAAG), Ontario Museum Association (OMA), Sculpture / Assemblage / Installation Art
The SSC celebrates the new Canadian Sculpture Centre at The Distillery District!

May 4-Jun 2, 2019 | opening Sat 4 May, 2-5pm:
SPATIAL MODES. A group show of fully three-dimensional sculpture in a wide range of materials – from diverse sources, inspirations, and i ... more