Canadian Sculpture Centre / Sculptors Society of Canada
39 Parliament Street (NEW LOCATION!), Toronto ON M5A 4R2
Hours: Tues-Sat 11-6, Sun 12-5.
T:
647 435 5858
[email protected]
www.sculptorssocietyofcanada.org
Facebook: www.facebook.com/sculptorssocietyofcanada.
TAG: Artists' Collectives / Associations, Canadian, Church Street Village, Commercial, Contemporary, Juried Exhibitions, Ontario Museum Association (OMA), Sculpture / Assemblage / Installation Art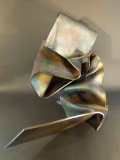 Aug 17-Sep 8, 2019 | opening Sat 17 Aug, 2-5pm:
INTERLUDE. Featuring works by: Yeon-Tak Chang, Camie Geary-Martin, Bastien Martel, Oliver Tiura. Exploring form and process, the four-pa ... more
Sep 14-Oct 14, 2019 | opening Sat 14 Sep, 2-5pm:
ON THE MOVE. Members of the Sculptors Society of Canada explore themes inspired by various cultural diaspora as it transitions from one locale to another. Meet artists: Holly Atkinson, John Clinton, Brett Davis, Eamon, Paul Elia, Edward Fal ... more
(See also Calls for Artists, under Sculptors Society of Canada –
click here
).