Canadian Sculpture Centre / Sculptors Society of Canada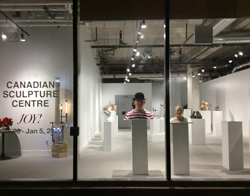 19 Mill Street (Distillery District), Toronto ON M5A 3R3 (1 block S of Front Street / 1/2 block E of Parliament Street; King streetcar #504A takes you directly to The Distillery)
Hours: Mon-Sat 11-6, Sun 12-5.
T:
647 435 5858
[email protected]
www.sculptorssocietyofcanada.org
Facebook: www.facebook.com/sculptorssocietyofcanada.
TAG: Artists' Collectives / Associations, Canadian, Commercial, Contemporary, Distillery District, Juried Exhibitions, Ontario Museum Association (OMA), Sculpture / Assemblage / Installation Art, Toronto
EXHIBITIONS

Oct 16-Nov 28, 2021:
HARMONY BETWEEN MAN AND NATURE. A two-person show by David Ruben Piqtoukun & Yeon-Tak Chang. Stoneworks exploring self-awaren ... more
(See also Calls for Artists, under Sculptors Society of Canada –
click here
).