Nikola Rukaj Gallery (est. 1984)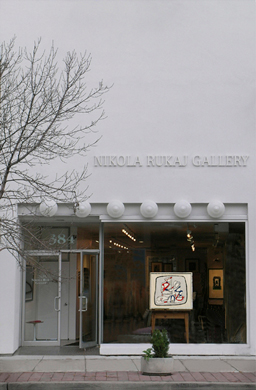 384 Eglinton Avenue West, Toronto ON M5N 1A2
Hours: Mon-Sat 10-6, Sun 12-6.
T:
416 481 5995
F:
416 481 6115
[email protected]
www.rukajgallery.com
Facebook: www.facebook.com/nikola.rukaj.gallery.
Twitter: www.twitter.com/rukajgallery.
Instagram: www.instagram.com/rukajgallery
Specializing in the purchase and sale of American and European paintings, works on paper, sculpture, photography, and master prints. Works by Joseph Albers, Milton Avery, Francis Bacon, Pierre Bonnard, Georges Braque, Jack Bush, Alexander Calder, Nicolas Carone, Mary Cassatt, Giorgio Cavallon, Paul Cezanne, Marc Chagall, Eduardo Chillida, Jean-Baptiste Camille Corot, Christo, Carlos Cruz-Diez, Edgar Degas, Sonia Delaunay, Joseph Drapell, Jean Dubuffet, Raoul Dufy, Friedel Dzubas, Helen Frankenthaler, Alberto Giacometti, Hans Hartung, David Hockney, Howard Hodgkin, Hans Hofmann, Robin Horsch, Alex Katz, Rainer Lagemann, Fernand Leger, Malcolm Liepke, Robert Longo, Aristide Maillol, Robert Mangold, Conrad Marca-Relli, Henri Matisse, Henry Moore, Russell Monk, Claes Oldenburg, William Perehudoff, Pablo Picasso, Eberhard Ross, Jerry Schatzberg, Julian Schnabel, David Shapiro, Aaron Siskind, Frank Stella, Donald Sultan, Luis Tomasello, Van Dongen, Christine Vaillancourt, Jacques Villon, Andy Warhol. Member of ADAC (Art Dealers Association of Canada).
TAG: American, Art Dealers Association of Canada (ADAC), Art Toronto 2017, Canadian, Commercial, Contemporary, Eglinton West / Forest Hill, European, Mixed Media / Collage, Modern, Paintings (oil, acrylic, encaustic, egg tempera, w/c, pastel), Photography / Lens-based, Printmaking (woodcut, engraving, etching, lithography, screenprint, monoprint, etc.), Scotiabank CONTACT Photography Festival 2018, Sculpture / Assemblage / Installation Art
AT THE GALLERY
AT THE FAIRS