Rukaj Gallery (est. 1984)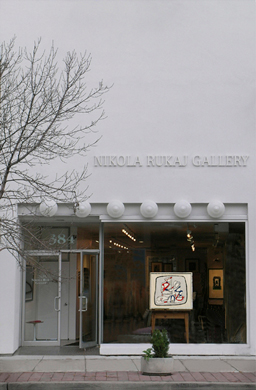 384 Eglinton Avenue West, Toronto ON M5N 1A2
Hours: Mon-Sat 10-6.
T:
416 481 5995
[email protected]
www.rukajgallery.com
Facebook: www.facebook.com/nikola.rukaj.gallery.
Twitter: www.twitter.com/rukajgallery.
Instagram: www.instagram.com/rukajgallery.
Specializing in the purchase and sale of American and European paintings, works on paper, sculpture, photography, and master prints. Works by Joseph Albers, Miles Aldridge, Milton Avery, SoHyn Bae, Donald Baechler, David Blackwood, Ross Bleckner, Pierre Bonnard, Tritan Braho, Georges Braque, Jack Bush, Alexander Calder, Giorgio de Chirico, Robert Christie, Antoni Clave, Chuck Close, Jean-Baptiste-Camille Corot, Graham Coughtry, Carlos Cruz-Diez, Salvador Dali, Gene Davis, Stuart Davis, Sonia Delaunay-Terk, Andre Derain, Richard Diebenkorn, Jim Dine, Jean Dubuffet, Friedel Dzubas, Sorel Etrog, Eric Fischl, Sam Francis, Helen Frankenthaler, Naum Gabo, Alberto Giacometti, Arshile Gorky, Anthony Gormley, Lulu Ladron de Guevara, John Hartman, Hans Hartung, Al Held, David Hockney, Uno Hoffmann, Hans Hofmann, Robert Indiana, Wolf Kahn, Alex Katz, Sandrine Kern, Dorothy Knowles, Sol Lewitt, Malcolm Liepke, Robert Longo, Robert Mangold, Ilana Manolson, Rene Marcil, Albert Marquet, Henri Matisse, Guido Molinari, Robert Motherwell, Shirin Neshat, Louise Nevelson, Kenneth Noland, Claes Oldenburg, Jules Olitski, Julian Opie, Raymond Parker, William Perehudoff, Robert Rauschenberg, Man Ray, Eberhard Ross, Miriam Schapiro, Kenny Scharf, Jerry Schatzberg, Richard Serra, Pat Service, David Shapiro, Donald Sultan, Antoni Tapies, Cy Twombly, Christine Vaillancourt, Maurice de Vlaminck, Tomas van Houtryve, Kees Van Dongen, Andy Warhol, Tom Wesselmann, Edward Weston, James Whistler, York Wilson, Jack Youngerman. Member of ADAC (Art Dealers Association of Canada).
TAG: Allenby, Art Dealers Association of Canada (ADAC), Canadian, Commercial, Contemporary, Eglinton / W of Avenue Road, Eglinton Way, Lawrence Park South, Mixed Media, Modern, Paintings, Photography, Printmaking, Sculpture & Installation, Toronto, Yonge - Eglinton
AT THE GALLERY
Oct 26-31, 2021:
Rukaj Gallery is participating the Art Dealers Association of Canada's Toronto Gallery Week, taking place both online and in-person. We are showing Large & Small Museum Works from our inventory in
...
more
AT THE FAIRS
Nov 30-Dec 5, 2021:
Rukaj Gallery at Art Miami 2021. www.artmiami.com. Visit Rukaj Gallery's digital booth from wherever you are in the world. This year we are exhibiting an exceptional selection of ... more
Mar 24-27, 2022:
Rukaj Gallery at Palm Beach Modern + Contemporary 2022. www.artpbfair.com.