Art Gallery of York University (AGYU)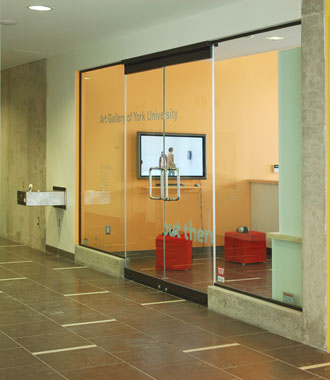 4700 Keele Street, Accolade East Building, Toronto ON M3J 1P3
Hours -- Mon-Fri 10-4, Wed 10-8, Sun 12-5, Sat closed. Directions -- TTC: Ride Line One to York University Station, get off the subway and enter the Gallery. Driving: Enter YorkU Keele Campus via The Pond Road; park in the Student Services garage. WheelTrans: North Entrance TTC YorkU Subway Station.
T:
416 736 5169
[email protected]
www.AGYU.art
Facebook: www.facebook.com/ArtGalleryofYorkUniversity.
Twitter: www.twitter.com/A_G_Y_U.
Instagram: www.instagram.com/a_g_y_u
TAG: American, Artists' Books, Canadian, Contemporary, Drawings / Ink / Pastels, European, Latin & South American, North York, Ontario Association of Art Galleries (OAAG), Performance Art / Music, Photography / Lens-based, Public Galleries / Museums, Relational / Conceptual Art, Scotiabank CONTACT Photography Festival 2018, Sculpture / Assemblage / Installation Art, Street Art / Public Art, University Galleries / Museums, Video / Film / Sound
NEW publication –
Marlon Griffith. Symbols of Endurance includes essays by Chanzo Greenidge, Gabriel Levine, Claire Tancons, and Emelie Chhangur. The book covers the artist's massively
...
more