Art Gallery of York University (AGYU)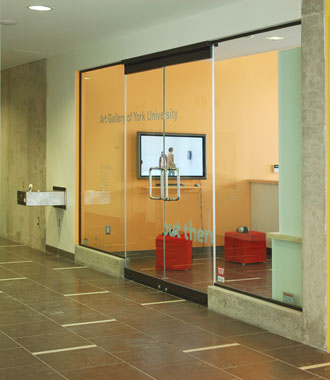 4700 Keele Street, Accolade East Building, Toronto ON M3J 1P3
Hours -- Mon-Fri 10-4, Wed 10-8, Sun 12-5, Sat closed. Directions -- TTC: Ride Line One to York University Station: the Gallery entrance faces the south exit. Driving: Enter YorkU Keele Campus via The Pond Road; park in the Student Services garage. WheelTrans: Closest stop is YorkU Subway Station, north exit.
T:
416 736 5169
[email protected]
www.AGYU.art
Facebook: www.facebook.com/ArtGalleryofYorkUniversity.
Twitter: www.twitter.com/A_G_Y_U.
Instagram: www.instagram.com/a_g_y_u
TAG: American, Artists' Books, Canadian, Contemporary, Drawings / Ink / Pastels, European, Latin & South American, North York, Ontario Association of Art Galleries (OAAG), Performance Art / Music, Photography / Lens-based, Public Galleries / Museums, Relational / Conceptual Art, Scotiabank CONTACT Photography Festival, Sculpture / Assemblage / Installation Art, Street Art / Public Art, University Galleries / Museums, Video / Film / Sound
Main Gallery exhibition

17 Jan -- 17 Mar 2019 | opening reception Thur 17 Jan, 6-9pm; artists' talk & tour 6:30pm:
Ready Player Two. Brendan Lee Satish Tang and Sonny Assu. Informed by Brendan Lee Satish Tang ... more
AGYU Vitrines

17 Jan -- 17 Mar 2019 | opening reception Thur 17 Jan, 6-9pm:
Evoking the ease and fluidity of image-making as an adolescent, York MFA candidate Naz Rahbar harnesses the urgency of child-like honesty and m
...
more
Audio Out Listening Bench
17 Jan -- 17 Mar 2019 | opening reception Thur 17 Jan, 6-9pm:
In 2015, Jordan Scott became the first poet to gain access to the detention camps at Guantánamo Bay. Met with layers of bureaucratic censorship and silencing, Scott recorded as much noise as he could over five days. Lanterns at Gu
...
more
Public programs for Ready Player Two
Thursdays 5-7pm, 31 Jan -- 28 Mar 2019:
In Between Wor(l)ds. Facilitated by Patrick Walters, In Between Wor(l)ds is a FREE, spoken word poetry program that is open to both community members and York University students. Taking place at the AGYU, these workshops ... more
Thur 14 Mar 2019, 6-8pm:
Mixed Messages: spoken word poets re-present mixed-race identity. Featuring performances by Britta Badour, Paulina O'Kieffe and Patrick Walters. Can spoken word poetry play a role in the construct ... more
Publications
NEW publications –
Iris Häussler: The Sophie La Rosière Project. Includes essays by Philip Monk, Catherine Sicot, Rui Mateus Amaral, Gérard Audinet and Yan Pélissier.
The
...
more