Art Gallery of York University (AGYU)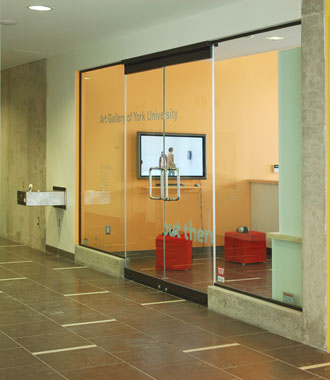 4700 Keele Street, Accolade East Building, Toronto ON M3J 1P3
Hours -- Mon-Fri 10-4, Wed 10-8, Sun 12-5, Sat closed. Please note: As of Mar 18, 2020, the Gallery is closed as we monitor the situation surrounding COVID-19. We will be adapting our exhibition schedule to accommodate current developments, and will be looking for ways to be an active member of the community. Directions -- TTC: Ride Line One to York University Station: the Gallery entrance faces the south exit. Driving: Enter YorkU Keele Campus via The Pond Road; park in the Student Services garage. WheelTrans: Closest stop is YorkU Subway Station, north exit.
T:
416 736 5169
[email protected]
http://AGYU.art
Facebook: www.facebook.com/ArtGalleryofYorkUniversity.
Twitter: www.twitter.com/A_G_Y_U.
Instagram: www.instagram.com/a_g_y_u.
TAG: American, Artists' Books, Canadian, Canadian Museums Association, Contemporary, Drawings / Ink / Pastels, European, Latin & South American, North York, Ontario Association of Art Galleries (OAAG), Performance Art / Music, Photography / Lens-based, Public Galleries / Museums, Relational / Conceptual Art, Scotiabank CONTACT Photography Festival, Sculpture / Assemblage / Installation Art, Street Art / Public Art, University Galleries / Museums, Video / Film / Sound / Digital
Instagram series
Sundays 7pm, May 17-Jul 19, 2020:
Sunday Sessions: A Live Instagram Performance Series. The Art Gallery of York University is privileged to be partnering with Black Creek Community Farm, Corner Commons, Green Change and Jane Street Speaks to bring you this ... more
Tuesdays 7-8pm, May 19, 26, Jun 2 & 9, 2020:
Back by popular demand: Remote Control, live on www.instagram.com/a_g_y_u. May 19, 7-8pm: featuring Maya Gabriel, Sasha L. Henry, Ellevan, Aicha, Stretch, a
...
more