Art Gallery of Mississauga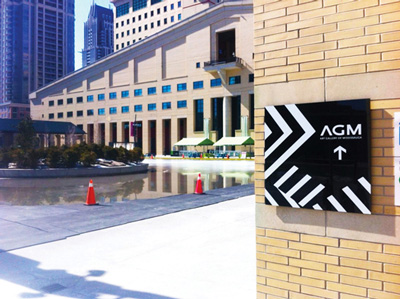 300 City Centre Drive, Mississauga ON L5B 3C1
Hours -- Mon, Tues, Wed & Fri 10-5; Thur 10-8; Sat & Sun 12-4. Please note: Visit our website for holiday hours. Wheelchair accessible.
admission: FREE. All are welcome.
T:
905 896 5088
www.artgalleryofmississauga.com
Blog: http://artgalleryofmississauga.wordpress.com/.
Facebook: www.facebook.com/ArtGalleryofMississauga.
Twitter: www.twitter.com/AGMengage.
YouTube: www.youtube.com/user/AGMEngage.
Instagram: www.instagram.com/AGMengage
TAG: Canadian, Caribbean, Contemporary, Drawings / Ink / Pastels, Fine Art Prints, Mixed Media / Collage, Ontario Association of Art Galleries (OAAG), Ontario Museum Association (OMA), Paintings (oil, acrylic, encaustic, egg tempera, w/c, pastel), Peel, Photography / Lens-based, Public Galleries / Museums, Sculpture / Assemblage / Installation Art, Textiles / Fibre Art
Continuing exhibitions
Benefit art auction
Live auction Thur 26 Apr 2018, 7pm | Public preview Apr 19-25, 2018:
Art Gallery of Mississauga Annual Benefit Art Auction at Square One, 100 City Centre Drive, Mississauga. Tickets and compete details available at: http://bit.ly/2HoXPjK. With works by over 40 con ... more
Upcoming exhibition
May 3-Jun 17, 2018 | opening reception Thur 3 May, 6-9pm:
seeping upwards, rupturing the surface. Scotiabank CONTACT Photography Festival Featured Exhibition. seeping upwards, rupturing the surface takes as a starting point "sad girl theory." A term recently coined by writer Audrey Woll ... more
(See Community Courses for info on
Arts & Crafts with QTBIPOC Sauga,
and
AGM Tot Spot!
2018 schedule –
http://bit.ly/2jnfGgv
).