Art Gallery of Mississauga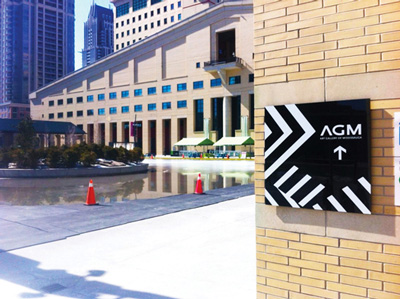 300 City Centre Drive, Mississauga ON L5B 3C1
hours: Tues-Fri 10-5; Thur 10-8, Sat 12-4.
T:
905 896 5088
www.artgalleryofmississauga.com
Facebook: www.facebook.com/agmengage.
Twitter: www.twitter.com/AGMengage.
Instagram: www.instagram.com/AGMengage.
YouTube: www.youtube.com/user/AGMEngage.
The Art Gallery of Mississauga (AGM) is a public, not-for-profit art gallery located on the ground floor of the Mississauga Civic Centre, right on Celebration Square and across from Square One. The AGM is a barrier-free space with an all-gender washroom. Everyone is welcome.
TAG: Canadian, Canadian Museums Association, Contemporary, Drawings, Fibre Art, Galeries Ontario Galleries (GOG), Mississauga, Mixed Media, Paintings, Peel Regional Municipality, Photography, Printmaking, Public, Sculpture & Installation
Current exhibitions

Nov 18, 2021 -- Jan 12, 2022:
Art of a Young Nation: Bangladesh. In celebration of the 50 years of Bangladesh, the Art Gallery of Mississauga showcases ... more

Nov 18, 2021 -- Jan 12, 2022:
Lighting the Fire of Freedom: Bangabandhu Sheikh Mujibur Rahman. The Samdani Art Foundation and the Centre for Research a ... more