Gallery on the Bay (since 1995)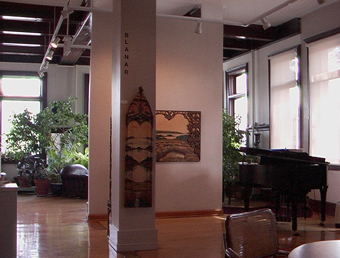 231 Bay Street North (at Barton), Hamilton ON L8R 2R1 (corner of Barton)
Hours: Thur-Sat 12-5, Sun 12-4, & by appointment. Closed Jul 16-Sep 6, 2018 for building & Gallery repairs and maintenance; and annual inventory.
T:
905 540 8532
[email protected]
www.galleryonthebay.com
Like us on Facebook: http://bit.ly/2fhX92p.
Follow us on Twitter: www.twitter.com/GalleryontheBay
TAG: Canadian, Commercial, Contemporary, Drawings / Ink / Pastels, Fine Art Prints, Hamilton, Historical, Mixed Media / Collage, Other Fine Craft: metal, jewellery, stone, bone, Paintings (oil, acrylic, encaustic, egg tempera, w/c, pastel), Photography / Lens-based
MAIN GALLERY (curated by Marlaise Dawson)
STUDIO GALLERY (curated by Barry Hodgson)
Representing: Scott Abbott, Wesley W. Bates, Andrea Blanar, Barry Coombs, Robert Creighton, David Laing Dawson, Michael Dobson, Sandee Ewasiuk, Patricia Gagic, Catherine Gibbon, Hélène Goulet, Fuad Hamdi, Barry Hodgson, Trevor
...
more