Ryerson Image Centre
Gallery. Research. Collections.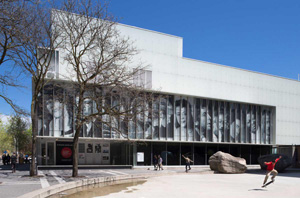 33 Gould Street, Toronto ON M5B 1X8 (1 block N-E of Yonge & Dundas)
hours: Tues/ Thur/ Fri 11-6, Wed 11-8, Sat & Sun 12-5.
admission: FREE.
T:
416 979 5164
www.ryerson.ca/ric
Facebook: www.facebook.com/ryersonimagecentre.
Twitter: www.twitter.com/RICgallery.
Instagram: www.instagram.com/ricgallery/.
Vimeo: http://vimeo.com/user4159523.
The Ryerson Image Centre (RIC) is dedicated to the public exhibition, research, study and teaching of photography and related disciplines, including new media, installation art and film. International in scope, the Ryerson Image Centre features three interrelated areas of activity: an exciting program of public exhibitions where innovative work by professional Canadian and international artists addresses social, cultural, historical and aesthetic issues; a world-class research centre that conducts research into the history of photography and documentary media, and offers an array of workshops, conferences and publication programs; and the collection, which is home to the acclaimed Black Star Collection of black and white photojournalistic prints, as well as important fine art photographic holdings and artist archives.
TAG: American, Canadian, City Hall District, Contemporary, European, Historical, Modern, Photography / Lens-based, University Galleries / Museums