Ryerson Image Centre
Gallery. Research. Collections.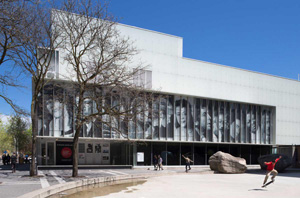 33 Gould Street, Toronto ON M5B 1X8 (1 block N-E of Yonge & Dundas)
hours: Tues/ Thur/ Fri 11-6, Wed 11-8, Sat & Sun 12-5. Please note: Ryerson Image Centre is closed from Mar 13, 2020 until further noice, in conjunction with Ryerson University's efforts to protect members of the community during the COVID-19 outdbreak.
admission: FREE. Wheelchair accessible.
T:
416 979 5164
www.ryersonimagecentre.ca
Facebook: www.facebook.com/ryersonimagecentre.
Twitter: www.twitter.com/RICgallery.
Instagram: www.instagram.com/ricgallery/.
Vimeo: http://vimeo.com/user4159523.
The Ryerson Image Centre (RIC) exists for the research, teaching and exhibition of photography and related media. We are an active partner within the academic fabric of Ryerson University, the cultural network of greater Toronto, and the national and international artistic community. We develop rigorous yet inclusive programs for students, faculty, artists, researchers and curators, as well as for the general public. The RIC features three interrelated areas of activity. Our exhibition program addresses topics of social, cultural, aesthetic and historical concern from a variety of contemporary perspectives. Our Peter Higdon Research Centre conducts and facilitates inquiry into primary resource materials and offers workshops, lectures, symposia and publication programs. Finally, we maintain a collection of photography spanning the medium's history, as well as several artist and journalism achives -- including the renowned Black Star Collection of 20th-century reportage.
TAG: American, Canadian, Canadian Museums Association, City Hall District, Contemporary, European, Historical, Modern, Ontario Association of Art Galleries (OAAG), Photography / Lens-based, University Galleries / Museums, Yonge & Dundas