MacLaren Art Centre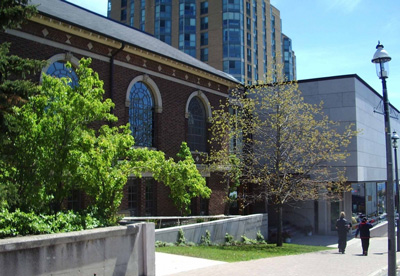 37 Mulcaster Street, Barrie ON L4M 3M2
hours: Mon-Fri 10-5, Wed 10-7, Sat & Sun 10-4. Closed on statutory holidays: Canada Day, August Civic Holiday (closed Jul 1, 2 and Aug 6, 2018), Labour Day, Thanksgiving Day, Christmas Day, Boxing Day, New Year's Day, Good Friday, Easter Sunday, Victoria Day. Open Family Day & Easter Monday.
admission: suggested $5.
T:
705 721 9696
[email protected]
www.maclarenart.com
Facebook: http://on.fb.me/uAOPgK.
Twitter: www.twitter.com/MacLarenArt.
Instagram: www.instagram.com/maclarenart/
TAG: American, Asian, Canadian, Contemporary, Drawings / Ink / Pastels, European, First Nations, Historical, Mixed Media / Collage, Modern, Ontario Association of Art Galleries (OAAG), Ontario Museum Association (OMA), Paintings (oil, acrylic, encaustic, egg tempera, w/c, pastel), Photography / Lens-based, Printmaking (woodcut, engraving, etching, lithography, screenprint, monoprint, etc.), Public Galleries / Museums, Sculpture / Assemblage / Installation Art, Simcoe
Exhibitions & events
Jul 5-Nov 25, 2018 | reception Thur 5 Jul, 7-9pm:
Robert Houle: Quillwork I-VII. These seven paintings on panel combine gestural forms, vivid colour fields and quill work, evocati ... more
Auction Fri 16 Nov 2018, 7-11pm | Preview Nov 10-16:
Off The Hook: MacLaren Silent Art Auction. This annual fundraiser features approximately 150 artworks by over 100 regional artists and a wealth of great finds donated by local retailers. Tickets $50, including hors d'oeuvres and de ... more
By appointment:
Gallery tours may be booked for groups of all interests and sizes, including camp, school, special interest and families, and are available year-round (except statutory holidays). 705 721 9696 or email [email protected].