Beauchamp Art Gallery
Toronto | Quebec | Baie-St-Paul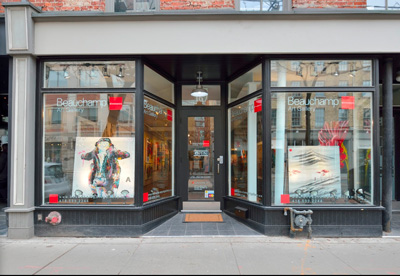 167 King Street East, and in the Distillery District: 20 Gristmill Lane, Toronto ON M5A 1J4
Hours: Mon-Sun 9:30am-5:30pm. Please note: All Beauchamp Art Galleries are closed during the COVID-19 pandemic. Our website will be updated every day with currently available works. Private visits are possible by making an appointment.
T:
416 599 2244 (King Street) |
T2:
416 306 2244 (Gristmill Lane) | 877 694 2244 (toll-free)
[email protected]
www.galeriebeauchamp.com/art/en/
Facebook: www.facebook.com/galeries.beauchamp.
Twitter: www.twitter.com/artbeauchamp.
Instagram: www.instagram.com/galerie_beauchamp.
TAG: Canadian, Commercial, Contemporary, Distillery District, King East / Front East District / Lake Shore Boulevard East, Mixed Media / Collage, Paintings (oil, acrylic, encaustic, egg tempera, w/c, pastel), Photography / Lens-based

The Beauchamp Family welcomes you to their two gorgeous art galleries in the heart of downtown Toronto! Both bright, contemporary spaces show a ... more