Textile Museum of Canada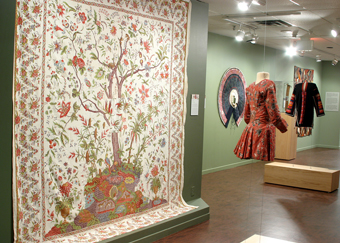 55 Centre Avenue, Toronto ON M5G 2H5 (St Patrick Subway, walk 1 short block E on Dundas)
Open daily 11-5, Wed 11-8. Closed Christmas Day, Boxing Day, New Year's Day, Easter Weekend (Fri-Mon), Victoria Day, Canada Day, Thanksgiving. Open on Ontario Family Day, August Civic Holiday, Labour Day.
admission: $15 general; $10 seniors; $6 students (with ID) & youth. $30 family. FREE to children under 5 years of age. FREE to members. Weds 5-8pm: pay-what-you-can. Wheelchair accessible.
T:
416 599 5321
[email protected]
www.textilemuseum.ca
Facebook: www.facebook.com/textilemuseumofcanada.
Twitter: www.twitter.com/tmctoronto.
Instagram: www.instagram.com/textilemuseumofcanada/.
TAG: African, American, Asian, Canadian, Canadian Museums Association, City Hall District, European, Indigenous, Inuit Art, Latin & South American, Middle Eastern, Oceanian / Australian, Ontario Association of Art Galleries (OAAG), Ontario Museum Association (OMA), Other Fine Craft: metal, jewellery, stone, bone, Public Galleries / Museums, Scotiabank CONTACT Photography Festival, Textiles / Fibre Art
EXHIBITIONS
COMMUNITY GALLERY
EVENTS + ONGOING PROGRAMMING
ONLINE PROJECTS