Textile Museum of Canada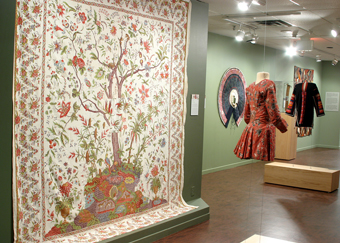 55 Centre Avenue, Toronto ON M5G 2H5 (St Patrick Subway, walk 1 short block E on Dundas)
hours: Wed-Sun 11-6.
admission: All visitors, including members, are encouraged to book a timed ticket in advance. $15 adults; $6 youth (6-18 years) & students (with valid Post-Secondary ID); $10 seniors. FREE to children (5 years & under). FREE to members.
T:
416 599 5321
[email protected]
https://textilemuseum.ca
Facebook: www.facebook.com/textilemuseumofcanada.
Twitter: www.twitter.com/tmctoronto.
Instagram: www.instagram.com/textilemuseumofcanada/.
YouTube: www.youtube.com/user/TXTilecity.
TAG: Canadian Museums Association, City Hall District, Galeries Ontario Galleries (GOG), Non-Profit, Ontario Museum Association (OMA), Public, Toronto, Yonge - Bay Corridor
EXHIBITIONS
PROGRAMS & EVENTS
DIGITAL PROGRAMMING