Sandra Ainsley Gallery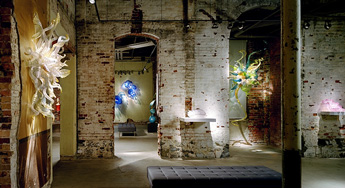 100 Sunrise Avenue, Unit 150, Toronto ON M4A 1B3
Hours: Tues-Sat 11-6.
T:
416 214 9490
F:
416 214 9503
[email protected]
www.sandraainsleygallery.com
Facebook: www.facebook.com/SandraAinsleyGallery.
Twitter: www.twitter.com/ainsleygallery.
Instagram: www.instagram.com/ainsleygallery
Sandra Ainsley Gallery is the leading dealer of contemporary glass in Canada. The Gallery, established in 1984, relocated in 2012 to a renovated industrial warehouse. The Gallery was designed to showcase the work of the leading Canadian, American, and international artists working primarily in glass and mixed media. Member of ADAC (Art Dealers Association of Canada).
TAG: American, Art Dealers Association of Canada (ADAC), Art Toronto 2017, Asian, Canadian, Clay and Glass, Commercial, Contemporary, Eglinton East / Victoria Park, European, Other Fine Craft: metal, jewellery, stone, bone, Sculpture / Assemblage / Installation Art
Nov 6-Dec 6, 2018:
Morgan Peterson. Morgan, originally from Boston, Massachusetts, graduated from Massachusetts College of Art and Design with a dual degree in 2006. Upon completion of her degrees, she relocated to Seattle WA to pursue a career in the arts and t ... more
Nov 18-Dec 29, 2018:
Stephen Pon. The work of Stephen Pon while constantly evolving, stands out at first glance. From the different series of gondolas and ships, to the sculptures of expressive characters, the artist reveals unique creations that originate from an ... more
For information on exhibitions and events please see website or contact the Gallery.