Art Museum at the University of Toronto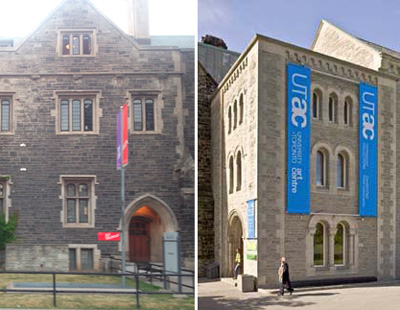 7 Hart House Circle (Justina M. Barnicke Gallery), and 15 King's College Circle (University of Toronto Art Centre), Toronto ON
hours: Tues-Sat 12-5 | Wed 12-8. Please note: Wheelchair access to the University of Toronto Art Centre is temporarily closed due to University College Building Revitalization construction. The Justina M. Barnicke Gallery location in Hart House is wheelchair accessible.
admission: FREE.
T:
416 978 1838
www.artmuseum.utoronto.ca
Connect with us!
Facebook: www.facebook.com/ArtMuseumUofT.
Twitter: www.twitter.com/artmuseumuoft.
Instagram: www.instagram.com/artmuseumuoft.
TAG: American, Artists' Books, Asian, Canadian, Canadian Museums Association, Contemporary, Drawings / Ink / Pastels, European, Indigenous, Latin & South American, Middle Eastern, Mixed Media / Collage, Ontario Association of Art Galleries (OAAG), Ontario Museum Association (OMA), Paintings (oil, acrylic, encaustic, egg tempera, w/c, pastel), Performance Art / Music, Photography / Lens-based, Printmaking (woodcut, engraving, etching, lithography, screenprint, monoprint, etc.), Public Galleries / Museums, Relational / Conceptual Art, Scotiabank CONTACT Photography Festival, Sculpture / Assemblage / Installation Art, University Galleries / Museums, University of Toronto, Video / Film / Sound / Digital