Cambridge Art Galleries | Idea Exchange | Design at Riverside Gallery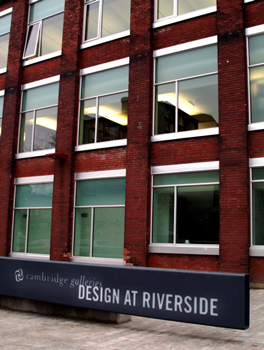 7 Melville Street South, Cambridge ON N1S 2N4
Hours: Mon-Fri 12-5, Sat 10-12:30 and 1-5, Sun 1-5. Please note: Design at Riverside will be closing at 4pm on Thur 10 Jan 2019; will be open 2-5pm on Fri 11 Jan 2019. Holiday closures: Christmas Eve, Christmas Day, Boxing Day, Dec 27 & 28, 2018, New Year's Day, Family Day, Good Friday, Easter Sunday, Victoria Day, Canada Day, August Civic Holiday, Labour Day, Thanksgiving Sunday & Monday.
admission: FREE
T:
519 621 0460
https://ideaexchange.org
Facebook: www.facebook.com/CbridgeArtGall/.
Twitter: www.twitter.com/CbridgeArtGall.
Twitter: www.twitter.com/IdeaXchng.
TAG: Architecture / Design, Canadian, Contemporary, Drawings / Ink / Pastels, Mixed Media / Collage, Ontario Association of Art Galleries (OAAG), Public Galleries / Museums, Video / Film / Sound, Waterloo Regional Municipality
Exhibitions & events

Jan 25-Mar 31, 2019 | opening Fri 25 Jan, 7pm:
Licensed to Show Part 2. Following the ambitious mounting of The Whole Shebang: a research project in late 2017, we will showcase a sele ... more