Blue Crow Gallery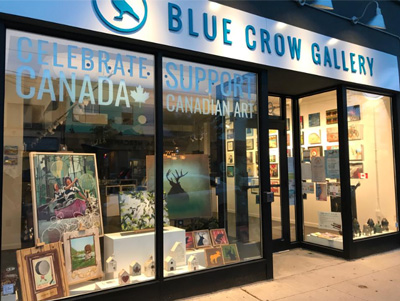 1610 Gerrard Street East, Toronto ON M4L 2A5
hours: Tues-Sat 11-6, Sun 11-5.
T:
647 427 2400
[email protected]
www.bluecrowgallery.com
Instagram: www.instagram.com/bluecrowgallery.
Facebook: www.facebook.com/bluecrowgallery
Gallery representing established and emerging local Canadian artists. We offer art camps for kids, art classes for kids and adults in a variety of mediums. Register now on our website!
TAG: Canadian, Commercial, Contemporary, Gerrard East / South Asian Bazaar, Paintings (oil, acrylic, encaustic, egg tempera, w/c, pastel)
Exhibitions

Apr 7-30, 2018 | opening reception Sat 7 Apr, 7-9pm:
Toronto-based artist Michele Crockett presents Endless Summer. Photographs of beaches overlaid with coloured patterns and shapes
...
more

May 5-29, 2018 | opening reception Sat 5 May, 7-9pm:
Manitoba native Lori Klassen presents Signs of Hope, a collection of paintings which revel in the beauty and sensuality of flower
...
more