Newmarket Old Town Hall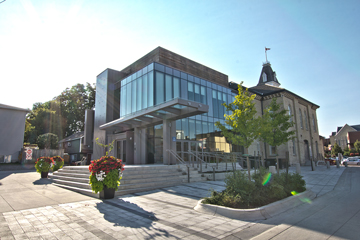 460 Botsford Street, Newmarket ON L3Y 1T1
Gallery hours: Tues & Thur 10am-8:30pm; Wed, Fri & Sat 10am-4pm. Please note: Nemarket Old Town Hall is closed from Mar 14, 2020 until further notice. Closed Sundays, Mondays and statutory holidays. Please refer to our website for latest updates about closures due to private events.
admission: FREE. All welcome.
T:
905 953 5313
www.newmarket.ca/OldTownHall
Learn more: www.newmarket.ca/OTHexhibits.
Instagram: www.instagram.com/townofnewmarket.
Facebook: www.facebook.com/TownofNewmarket.
YouTube: www.youtube.com/user/TownofNewmarket.
Twitter: www.twitter.com/townofnewmarket.
Opened in 1883, Old Town Hall began as a Farmers' Market situated in the heart of Newmarket's historical Main Street area. It has undergone substantial renovation and expansion in recent years. Today, this iconic building is a multi-use facility that engages residents and the community with its art gallery, performance space, meeting rooms and a full roster of cultural events and programs.
TAG: Canadian, Contemporary, Drawings, Indigenous, Mixed Media, Newmarket, Paintings, Photography, Public, York Regional Municipality