JL Phillips Gallery
PRESENTS A POP-UP ART SALE AT
2104 Dundas Street West, Toronto ON M6R 1W9
hours: Tues-Sat 1-8pm or by appointment.
www.jlphillips.com
Facebook: www.facebook.com/jlphillpsgallery/.
Instagram: www.instagram.com/jlphillipsgallery/.
TAG: African, Asian, Canadian, Contemporary, Historical, Indigenous, Morrow Avenue District, Roncesvalles, Objets d'art, Oceanian / Australian, Photography / Lens-based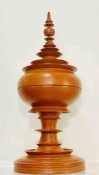 Nov 14-23, 2019:
JL Phillips Gallery presents a pop-up art sale: FEAST, a curated selection of ethnographic objects of art, along with Dale M.
...
more