Canadian Clay & Glass Gallery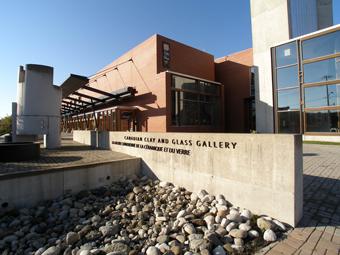 25 Caroline Street North, Waterloo ON N2L 2Y5
Hours: Mon-Fri 11-6, Sat 10-5, Sun 1-5.
admission: FREE
T:
519 746 1882
F:
519 746 6396
www.theclayandglass.ca
Facebook: http://on.fb.me/rBVH6p.
Twitter: www.twitter.com/CdnClayandGlass.
Instagram: www.instagram.com/cdnclayandglass
The Canadian Clay & Glass Gallery (CCGG) is a premier exhibition space for contemporary silica artwork, including ceramic, glass and enamel work. The Gallery also offers workshops, childrenÕs art programs, adult classes, tours, lectures, facility rentals, as well as a gift shop showcasing Canadian artists from all over the country.
TAG: Canadian, Clay and Glass, Contemporary, Mixed Media / Collage, Ontario Association of Art Galleries (OAAG), Other Fine Craft: metal, jewellery, stone, bone, Public Galleries / Museums, Sculpture / Assemblage / Installation Art, Waterloo Regional Municipality