Thompson Landry Gallery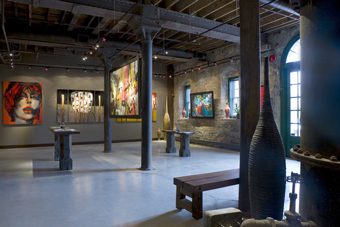 32 Distillery Lane (Stone Distillery Gallery), and 6 Trinity Street (The Cooperage Space), Distillery District, Toronto ON M5A 3C4
Please note: Due to the COVID lockdown in Toronto, the Thompson Landry Gallery is closed to the public from Nov 23, 2020 until further notice. But we are still here to take care of our valued customers. For information about any of our works, please contact us by telephone or email. We encourage you to explore our virtual exhibitions and visit our social media outlets.
T:
416 364 4955
[email protected]
www.thompsonlandry.com
Artsy: www.artsy.net/thompson-landry-gallery.
Instagram: www.instagram.com/thompsonlandrygallery/.
Facebook: www.facebook.com/ThompsonLandryGallery/.
Twitter: www.twitter.com/ThompsonLandry.
YouTube: www.youtube.com/channel/UCUIF_oUiKu3_O-wdiJv9Mww/videos.
The only gallery in Toronto specializing solely in artwork from the province of Quebec, the Thompson Landry Gallery showcases the very best of the new generation of contemporary Quebecois artists, as well as its great masters.
TAG: Canadian, Commercial, Contemporary, Distillery District, Historical, Mixed Media / Collage, Modern, Paintings (oil, acrylic, encaustic, egg tempera, w/c, pastel), Photography / Lens-based
Feb - Apr 2021:
New Works. Our roster of talented artists has been very busy these past few months, and we have received some amazing new works by Yoakim Bélanger, Carol Bernier, Étienne Gélinas, Hyun Jou-Lee, Yann Normand, B&ea ... more