Thompson Landry Gallery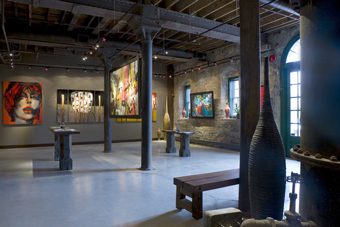 32 Distillery Lane (Stone Distillery Gallery), and 6 Trinity Street (The Cooperage Space), Distillery District, Toronto ON M5A 3C4
Our two gallery spaces are currently open by appointment.
T:
416 364 4955
[email protected]
www.thompsonlandry.com
Artsy: www.artsy.net/thompson-landry-gallery.
Instagram: www.instagram.com/thompsonlandrygallery/.
Facebook: www.facebook.com/ThompsonLandryGallery/.
Twitter: www.twitter.com/ThompsonLandry.
The only gallery in Toronto specializing solely in artwork from the province of Quebec, the Thompson Landry Gallery showcases the very best of the new generation of contemporary Quebecois artists, as well as its great masters.
TAG: Canadian, Commercial, Contemporary, Distillery District, Historical, Mixed Media / Collage, Modern, Paintings (oil, acrylic, encaustic, egg tempera, w/c, pastel), Photography / Lens-based

Joan Dumouchel presents Mes Têtes en Couleur at the Thompson Landry Gallery. Jun 11-Jul 12, 2020. To view more works please ... more