Mercer Union
A Centre for Contemporary Art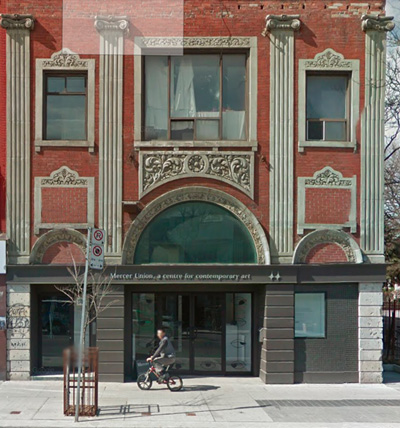 1286 Bloor Street West (one block E of Lansdowne TTC Station), Toronto ON M6H 1N9
[Please note: Mercer Union is closed from Nov 23, 2020, until further notice. Stay tuned to our website and social media platforms for updates]. Wheelchair accessible.
admission: FREE.
T:
416 536 1519
F:
416 536 2955
[email protected]
www.mercerunion.org
Facebook: http://on.fb.me/sLJH6x.
Twitter: www.twitter.com/mercerunion.
Instagram: www.instagram.com/mercerunion.
40 years of Mercer Union, a non-profit, artist-centred space. We are dedicated to supporting production of new and experimental work, and assisting artists in realizing pivotal projects. Mercer Union has been cultivating artists and challenging audiences since 1979. Member of ARCCO (Artist-Run Centres and Collectives of Ontario).
TAG: Bloor & Lansdowne Art District, Bloordale
Public events
12 Apr -- 28 Jun 2021 | public events Mondays 6pm, 12 Apr, 17 May & 28 Jun:
ma ma | in residence. Mercer Union has invited Toronto-based collective ma ma for an extended term of curatorial research through public events and engagements. ma ma | in residence begins with Fast Forwar ... more
Exhibition
21 Nov 2020 - 25 Apr 2021:
Erdem Tasdelen: A Minaret for the General's Wife. Visit us on Instagram to read Erdem Tasdelen's reflection on A Minaret for the General's Wife. While the exhibition remains closed, the artist's writing brings a sel ... more
Billboard installation
5 Apr -- 5 Jun 2021:
SPACE. The BAU | Functioning Circuits: GreenPort. Black Artists Union (BAU) in collaboration with Kanna Anigbogu illustrate the ethos of GreenPort Cannabis: Healing, Community, Growth and Unity. Mercer ... more
Projects
9 Feb -- 31 May 2021:
Mercer Union is excited to announce the 2nd iteration of isthmus, a commissioning platform dedicated to collaborative artistic research. The program continues Mercer Union's mission to support the production of new and experimental work.
...
more