Mercer Union
A Centre for Contemporary Art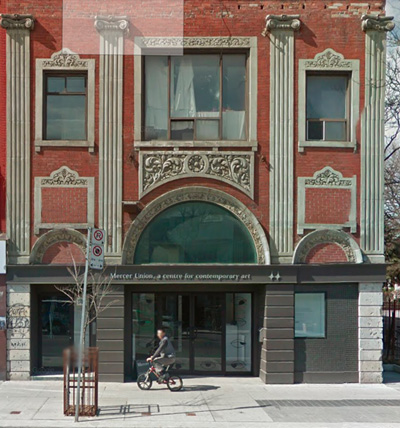 1286 Bloor Street West, Toronto ON M6H 1N9
Hours: Tues-Sat 11-6. Please note: Mercer Union is temporarily closed, begining Mar 17, 2020. Events and programs are on hold until further notice. Wheelchair accessible.
admission: FREE. Introductory tours every Saturday at 2pm.
T:
416 536 1519
F:
416 536 2955
[email protected]
www.mercerunion.org
Facebook: http://on.fb.me/sLJH6x.
Twitter: www.twitter.com/mercerunion.
Instagram: www.instagram.com/mercerunion.
40 years of Mercer Union, a non-profit, artist-centred space. We are dedicated to supporting production of new and experimental work, and assisting artists in realizing pivotal projects. Mercer Union has been cultivating artists and challenging audiences since 1979. Member of ARCCO (Artist-Run Centres and Collectives of Ontario).
TAG: American, Artist-Run Centres, Artists' Books, Asian, Bloordale, Canadian, Canadian Museums Association, Contemporary, Drawings / Ink / Pastels, European, Latin & South American, Middle Eastern, Mixed Media / Collage, Ontario Association of Art Galleries (OAAG), Paintings (oil, acrylic, encaustic, egg tempera, w/c, pastel), Performance Art / Music, Photography / Lens-based, Printmaking (woodcut, engraving, etching, lithography, screenprint, monoprint, etc.), Relational / Conceptual Art, Sculpture / Assemblage / Installation Art, Video / Film / Sound / Digital
Digital commission
19 May -- 31 Aug 2020:
Intervals is a digital image commission that engages the in-between – intervening times, spaces, pauses, and breaks in activity – as taken up by artistic practice. Presented on the Mercer Union website and Instagram, this pr ... more
Collaborative research commission
23 Jun - 1 Sep 2020:
Isthmus is a connection, a site forged between places. The program's first commission features Toronto-based artists and filmmakers Parastoo Anoushahpour, Faraz Anoushahpour and Ryan Ferko. We invite you to follow their pr ... more