Gallery Raymond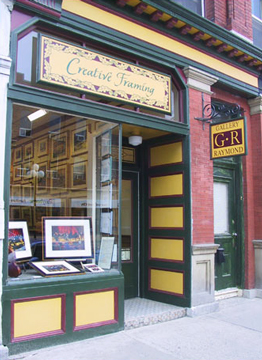 334 Princess Street, Kingston ON K7L 1B6
hours: Mon-Fri 9:30-5:30, Sat 10-5.
T:
613 549 2477
[email protected]
www.galleryraymond.com
Facebook: http://on.fb.me/sBdvhH
Representing: Bonnie Brooks, Jane Colden, Tim De Rose, Frank Edwards, Karen Fox, Grace George, Mark Graham, Jordan Hicks, Sarah Hunter, Harold Kaufmann, Aili Kurtis, Nicole McGrath, Michael Minthorn, Peggy Morley, Michelle Reid, Lori Richards, Maureen Sheridan, Barb Sohn, Beth ten Hove, Anita Utas, Raymond Vos, Verna Vowles, Gerry Wright. Complete custom framing available. Gallery Raymond is now pleased to offer art rental! We have over 400 original works of art available at the gallery.
TAG: Canadian, Commercial, Contemporary, Custom Framing, Frontenac County, Kingston, Mixed Media, Paintings, Photography