Carnegie Gallery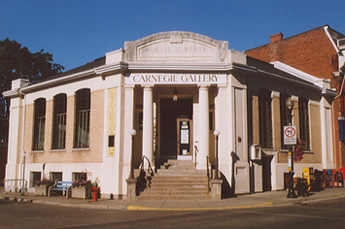 10 King Street West, Dundas, Hamilton ON L9H 1T7
gallery hours: Tues-Sat 10-5, Sun 12-4.
admission: FREE. | wheelchair accessible at Ogilvie Street.
T:
905 627 4265
[email protected]
www.carnegiegallery.org
Instagram: www.instagram.com/carnegie_gallery/.
Facebook: www.facebook.com/carnegiegallery.
YouTube: www.youtube.com/user/CarnegieGallery.
Twitter: www.twitter.com/carnegiegallery.
The Carnegie Gallery is operated by the Dundas Art & Craft Association, an incorporated non-profit organization dedicated to promoting and encouraging Canadian art and artists especially from our region. We gratefully acknowledge the support of the City of Hamilton, the Hamilton Community Foundation, Incite Foundation for the Arts, the Government of Canada, our sponsors and donors, and our many Friends and Volunteers.
TAG: Canadian Museums Association, Dundas, Hamilton, Public
MAIN GALLERY
THE BARBER ATRIUM