Rukaj Gallery (est. 1981)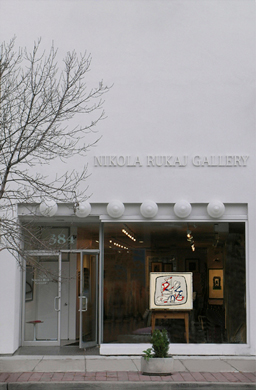 384 Eglinton Avenue West, Toronto ON M5N 1A2
Hours: Mon-Sat 10am-6pm, Sun 12-6.
T:
416 481 5995
[email protected]
www.rukajgallery.com
Facebook: www.facebook.com/nikola.rukaj.gallery.
Twitter: www.twitter.com/rukajgallery.
Instagram: www.instagram.com/rukajgallery.
RUKAJ GALLERY is a fine art gallery with over 40 years of exhibition experience and international and domestic art fair history. Modern . Contemporary . European . Canadian paintings . Works on paper . Sculpture . Fine master prints . Photography . With an emphasis on Post-War American. PAINTINGS by A.S.1, Karel Appel, Ben Aronson, SoHyun Bae, William Bailey, Tritan Braho, Nicolas Carone, Giorgio Cavallon, Robert Christie, Graham Coughtry, Jean-Baptiste-Camille Corot, Gene Davis, Burgoyne Diller, Joseph Drapell, Friedel Dzubas, Francois Gall, Kuno Gonschior, Robert Goodnough, Al Held, Uno Hoffmann, Hans Hofmann, Gershon Iskowitz, Alfred Jensen, Lester Johnson, Roger-Joseph Jourdain, Sandrine Kern, Dorothy Knowles, Dimitri Kozyrev, Lulu Ladron de Guevara, Malcolm Liepke, J Louis, Conrad Marca-Relli, Rene Marcil, Doris Jean McCarthy, Melissa Meyer, Robert Natkin, Simon Nicholas, Kenneth Noland, McKay Otto, Raymond Parker, William Perehudoff, Joe Plaskett, Eberhard Ross, Fred Ross, Miriam Schapiro, Henri Le Sidaner, Alfred Sisley, Douglas Stone, Armin Turk, Christine Vaillancourt, Jack Youngerman. WORKS ON PAPER by Milton Avery, Jean-Michel Basquiat, Milcah Bassel, Pierre Bonnard, James Brooks, Giorgio Cavallon, Genevieve Claisse, Ralston Crawford, Sonia Delaunay, Andre Derain, Burgoyne Diller, Sam Francis, Naum Gabo, Alberto Giacometti, Robert Goodnough, Betty Goodwin, Susan Hambleton, David Hockney, Uno Hoffmann, Robin Horsch, Brian Kelley, Henri Lebasque, Alfred Leslie, Rene Marcil, Albert Marquet, Henri Matisse, Michael Mazur, Guido Molinari, Richard Mortensen, Louise Nevelson, William Perehudoff, Richard Segalman, Saul Steinberg, Esteban Vicente, Jack Youngerman. SCULPTURE by Rafael Barrios, David Begbie, Shayne Dark, Sorel Etrog, Robin Horsch, Alex Katz, Lulu Ladron de Guevara, Jane Manus, Clement Meadmore, Patti Menkes, Claes Oldenburg, Julian Opie, McKay Otto, John Patkau, Jesus Raphael Soto, Donald Sultan, Ernest Trova, John Youngerman. MASTER PRINTS & MULTIPLES by John Andoe, Josef Albers, Miles Aldridge, Donald Baechler, William Bailey, John Baldessari, Will Barnet, Anne Meredith Barry, Leonard Baskin, Zigi Ben-Haim, Ross Bleckner, Pierre Bonnard, Jonathan Borofsky, Georges Braque, Andre Brasilier, Jack Bush, Alexander Calder, Marc Chagall, Eduardo Chillida, Giorgio de Chirico, Chuck Close, Susan Crile, Salvador Dali, Gene Davis, Stuart Davis, Sonia Delaunay, Richard Diebenkorn, Jim Dine, Kees van Dongen, Jean Dubuffet, Friedel Dzubas, Richard Estes, Eric Fischl, Neil Folberg, Roy de Forest, Helen Frankenthaler, Anne-Karin Furunes, Alberto Giacometti, Antony Gormley, Susan Hambleton, John Hartman, David Hockney, Tomas van Houtryve, Robert Indiana, Wolf Kahn, Deborah Kass, Alex Katz, Michael Kenna, Dorothy Knowles, Bonnie Lautenberg, Terry Legault, Fernand Leger, Sol Lewitt, Robert Longo, Danny Lyon, Christopher Makos, Robert Mangold, Mary Ellen Mark, Albert Marquet, Henri Matisse, Michael Mazur, Patti Menkes, Joan Miro, Henry Moore, Olivier Mosset, Robert Motherwell, Shirin Neshat, Ebrahim Noroozi, Claes Oldenburg, Jules Olitski, Julian Opie, Irving Penn, Enoc Perez, Elizabeth Peyton, Jaume Plensa, Liliana Porter, Robert Rauschenberg, Man Ray, Sebstiao Salgado, Emil Salto, Kenny Scharf, Jerry Schatzberg, Richard Serra, David Shapiro, Aaron Siskind, Bert Stern, Antoni Tapies, William Tillyer, Luis Tomasello, Scott Treleaven, Cy Twombly, Maurice de Vlaminck, Andy Warhol, Tom Wesselman, Jack Youngerman, Pawel Zablocki.
TAG: Allenby, Art Dealers Association of Canada (ADAC), Canadian, Commercial, Contemporary, Custom Framing, Eglinton / W of Avenue Road, Eglinton Way, International, Lawrence Park South, Modern, Toronto, Yonge - Eglinton
AT THE GALLERY
Sep 14-30, 2023:
Lulu Ladrón de Guevara & Robert Christie.
Rukaj Gallery is pleased to present a dual exhibition of Mexican-Canadian artist Lulu Ladrón de Guevara and Canadian artist Robert Christie. While hailing from seemingly dif ... more