Art Gallery of York University (AGYU)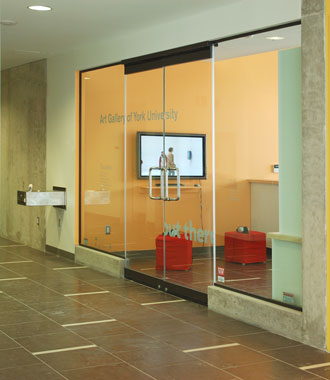 83 York Boulevard, Accolade East Building, North York, Toronto ON M3J 1P3
Hours: Tues-Sat 12-5. Directions -- TTC: Ride Line One to York University Station: the Gallery entrance faces the south exit. Driving: Enter YorkU Keele Campus via The Pond Road; park in the Student Services garage. WheelTrans: Closest stop is YorkU Subway Station, north exit.
admission: FREE. Visitors to York University's campuses (including the Art Gallery of York University) are encouraged to wear masks at all indoor locations on campus.
T:
416 736 5169
[email protected]
http://AGYU.art
Facebook: www.facebook.com/ArtGalleryofYorkUniversity.
Twitter: www.twitter.com/A_G_Y_U.
Instagram: www.instagram.com/a_g_y_u.
TAG: Canadian Museums Association, Galeries Ontario Galleries (GOG), Public, Toronto, University- or college-affiliated, York University Heights
EXHIBITIONS + EVENTS
PUBLIC ART COMMISSIONS