Art Gallery of Mississauga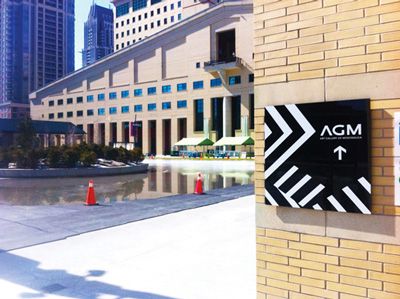 300 City Centre Drive, Mississauga ON L5B 3C1
Gallery hours: Tues, Wed & Fri 10-5, Thur 10-8, Sat & Sun 12-4. Mon & holidays closed.
admission: FREE.
T:
905 896 5088
www.artgalleryofmississauga.com
Facebook: www.facebook.com/agmengage.
Twitter: www.twitter.com/AGMengage.
Instagram: www.instagram.com/AGMengage.
YouTube: www.youtube.com/user/AGMEngage.
The Art Gallery of Mississauga (AGM) is a public gallery supported by the City of Mississauga, the Ontario Arts Council, the Canada Council for the Arts, the Ontario Trillium Foundation, corporations, private citizens, and Gallery members. The AGM provides platforms for exhibitions, collections, and experimentation in contemporary culture with a recent focus on artists and cultural producers from Indigenous, newcomer, and youth communtiies. Through a broad range of educational programs, artist projects, and other forms of critical dialogue, the AGM seeks to transcend traditional disciplinary boundaries, foster community, and provide spaces where alternative modes of thought are supported and activated in tangible ways. The AGM is proud to admit people FREE of charge, serve communities, and provide positive visual art experiences for all visitors.
TAG: Canadian Museums Association, Galeries Ontario Galleries (GOG), Mississauga, Peel Regional Municipality, Public
EXHIBITIONS & EVENTS
Sep 26-Nov 5, 2023 | reception Sun 1 Oct, 2pm:
Clarkson Society of Artists 60th Anniversary Showcase.
This exhibition celebrates one of Mississauga's most long-standing art groups. The community-based, non-profit association consists of approximately 40 local artists working acro ... more