Union Gallery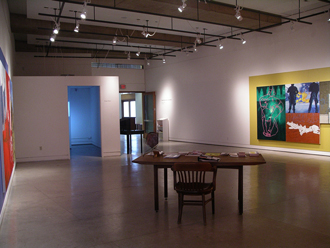 101 Union Street West, 1st Floor, Stauffer Library, Queen's University, Kingston ON K7L 2N9
Hours: Tues-Sat 11am-4:30pm, Wed & Thur 11am-8pm. (Please note: The Gallery will be closed Aug 10-26, 2023).
admission: FREE.
T:
613 533 3171
[email protected]
https://uniongallery.queensu.ca
Facebook: www.facebook.com/TheUnionGallery.
Twitter: www.twitter.com/TheUnionGallery.
Instagram: www.instagram.com/union_gallery
Union Gallery (UG) is a student-centred public contemporary art gallery at Queen's University. UG is a space centred in community and conversation, driven by play, curiosity, curation and research-creation. We are located on the first floor of Stauffer Library on Queen's main campus, situated on the ancestral territory of the Haudenosaunee and Anishinaabek. All are welcome.
TAG: Frontenac County, Kingston, Ontario Museum Association (OMA), Public, University- or college-affiliated