Newmarket Old Town Hall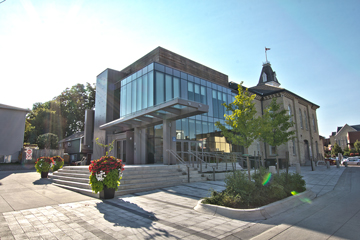 460 Botsford Street, Newmarket ON L3Y 1T1
admission: FREE. All welcome.
T:
905 953 5313
www.newmarket.ca/OldTownHall
Learn more: www.newmarket.ca/OTHexhibits.
Instagram: www.instagram.com/townofnewmarket.
Facebook: www.facebook.com/TownofNewmarket.
YouTube: www.youtube.com/user/TownofNewmarket.
Twitter: www.twitter.com/townofnewmarket.
Flickr: www.flickr.com/photos/townofnewmarket/.
Opened in 1883, Old Town Hall began as a Farmers' Market situated in the heart of Newmarket's historical Main Street area. It has undergone substantial renovation and expansion in recent years. Today, this iconic building is a multi-use facility that engages residents and the community with its art gallery, performance space, meeting rooms and a full roster of cultural events and programs.
TAG: Newmarket, Public, York Regional Municipality