Thompson Landry Gallery
IN THE DISTILLERY DISTRICT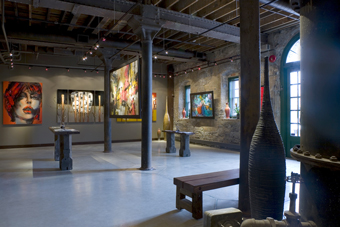 32 Distillery Lane (Stone Distillery Gallery), and 6 Trinity Street (The Cooperage Space), Distillery District, Toronto ON M5A 3C4
Gallery hours: Wed-Sun 11-4 or by appointment. Please contact the gallery for private viewing.
T:
416 364 4955
[email protected]
www.thompsonlandry.com
Artsy: www.artsy.net/thompson-landry-gallery.
Instagram: www.instagram.com/thompsonlandrygallery/.
Facebook: www.facebook.com/ThompsonLandryGallery/.
Twitter: www.twitter.com/ThompsonLandry.
YouTube: www.youtube.com/channel/UCUIF_oUiKu3_O-wdiJv9Mww/videos.
The only gallery in Toronto specializing solely in artwork from the province of Quebec, the Thompson Landry Gallery showcases the very best of the new generation of contemporary Quebecois artists, as well as its great masters.
TAG: Canadian, Commercial, Contemporary, Distillery District, Historical, Modern, St. Lawrence - East Bayfront - The Islands, Toronto
EXHIBITION
Oct 26 - through Dec 2023:
The Thompson Landry Gallery presents Group Exhibition of New Works. This dynamic exhibition features the most recent works from our incredible roster of contemporary Quebec artists, including: Yoakim Bélanger, Michel Blouin, C
...
more