Mercer Union
A CENTRE FOR CONTEMPORARY ART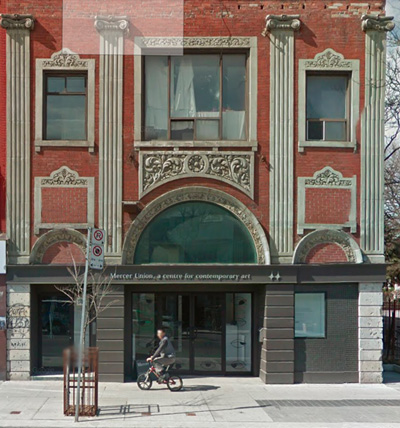 1286 Bloor Street West (one block E of Lansdowne TTC Station), Toronto ON M6H 1N9
hours: Tues-Sat 11-6. (Mercer Union's office will be closed for summer holidays 19 -- 27 Aug 2023).
T:
416 536 1519
F:
416 536 2955
[email protected]
www.mercerunion.org
Facebook: http://on.fb.me/sLJH6x.
Twitter: www.twitter.com/mercerunion.
Instagram: www.instagram.com/mercerunion.
Mercer Union is a non-profit, artist-centred space. We are dedicated to supporting production of new and experimental work, and assisting artists in realizing pivotal projects. Mercer Union has been cultivating artists and challenging audiences since 1979. Member of ARCCO (Artist-Run Centres and Collectives of Ontario).
TAG: Artist-Run, Bloor & Lansdowne Art District, Bloordale, Canadian Museums Association, Galeries Ontario Galleries (GOG), Toronto, Wallace Emerson
EXHIBITION
BILLBOARD INSTALLATION
9 Sep 2023 -- 12 Jan 2024:
SPACE. Sukaina Kubba | Jealousy: Now the Shadow. Mercer Union's SPACE billboard commission has invited artist Sukaina Kubba for its 2023-24 season for a yearlong series titled Jealousy ... more